Promoting digital animal health care services in the villages.
End Poverty in collaboration with IDFC First bank CSR, under its Shwetdhara programme is working to promote digital animal health care services in the villages. Although audio video calls were launched as an alternative during COVID when physical visits were difficult owing to the conditions, this is still in practice and has shown to be highly effective and easy way for both farmers and gram sakhis.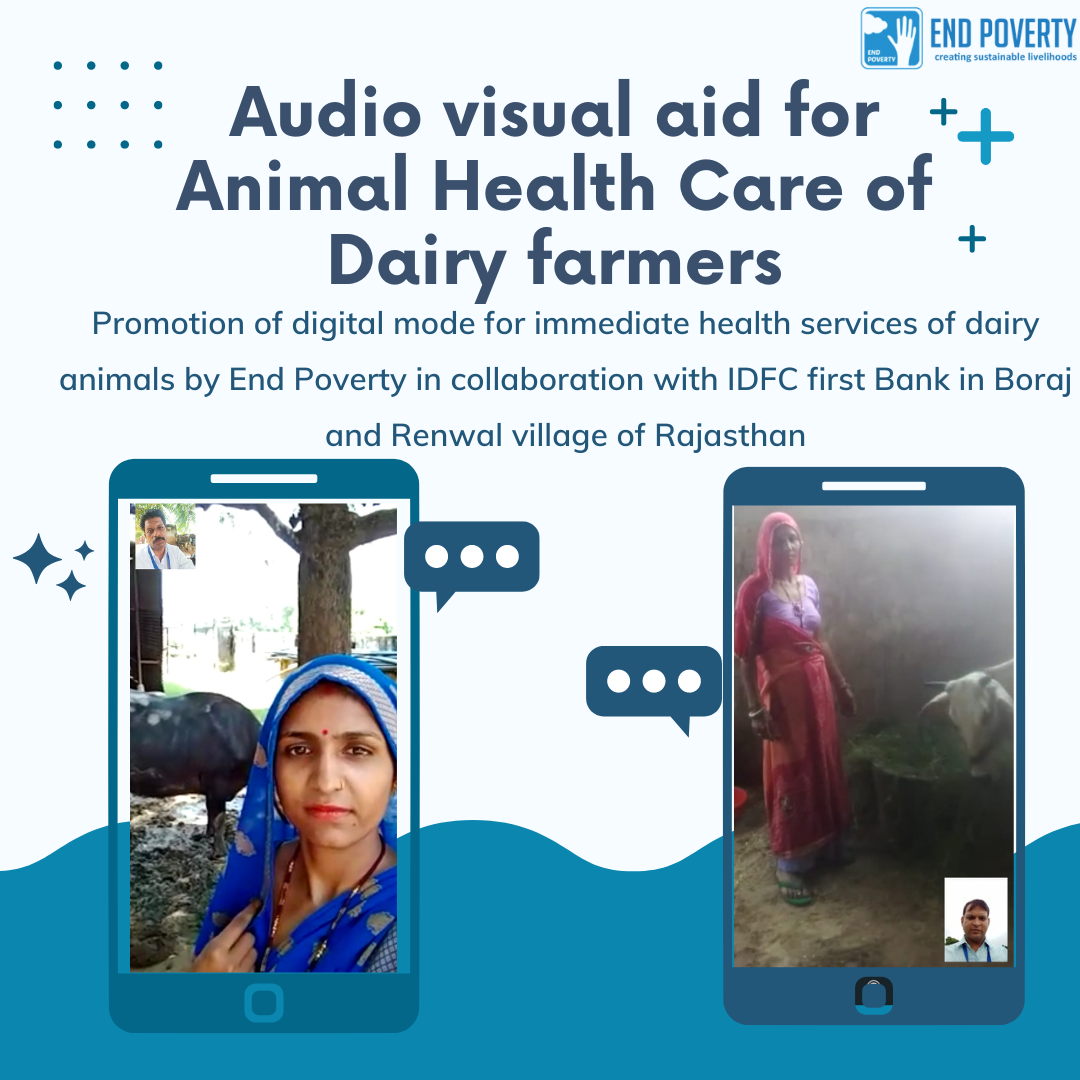 Gram Sakhis can now easily contact farmers through phones they have received under Shwetdhara program, to give information and to resolve dairy farmers concerns.
It has led to faster livestock treatment because farmers can now simply reach out to the Gram Sakhis if their cattle require medical attention. The Gram Sakhis then visit the farmer; if the cattle is in critical condition, then the Gram Sakhis contact the Shwetdhara veterinary doctors. If the case isn't critical, then Gram Sakhis provides assistance through video calls, in which the Gram Sakhis shows the condition of the cattle to the doctor via video call or by sending a picture, and the doctor then prescribes medication, according to the information gathered, the doctor charges a nominal fee.
Some of the common problems faced by cattle include ulcers in the mouth of animals, udder diseases, fever, cattle foot diseases, etc. In a survey conducted on 50 farmers, it was observed that the video calling facility has been used 10-15 times by 66.66 percent of the farmers linked to the program. The majority of the farmers stated that the video call option has been extremely useful for them and is a cost effective solution. The audio-visual facilities have helped the farmers save money. The farmers also stated that they have benefited from the audio-visual call services and intend to continue using them in the future. As a result, we can state that the audio-visual calls facilities have brought significant relief to farmers and will continue to deliver favorable outcomes now and in the future.